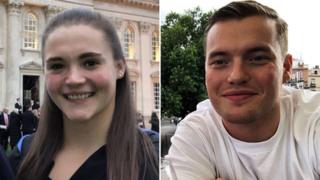 Tributes have been paid to two friends stabbed to death in Friday's terror attack at London Bridge.
Jack Merritt, 25, and Saskia Jones, 23, had been at a conference celebrating the five-year anniversary of the Learning Together prison programme when knifeman, 28-year-old Usman Khan, attacked them and three others.
He was shot dead by police minutes after he fatally wounded the University of Cambridge graduates.
Saskia Jones
"Saskia was a funny, kind, positive influence at the centre of many people's lives," the family of Ms Jones said in a statement.
"She had a wonderful sense of mischievous fun and was generous to the point of always wanting to see the best in all people," they added.
"She was intent on living life to the full and had a wonderful thirst for knowledge, enabling her to be the best she could be.
"Saskia had a great passion for providing invaluable support to victims of criminal injustice, which led her to the point of recently applying for the police graduate recruitment programme, wishing to specialise in victim support."
Ms Jones had completed a Masters degree in criminology in 2018.
Prof Loraine Gelsthorpe, director of the University of Cambridge's institute of criminology, said Ms Jones had a "determination to make an enduring and positive impact on society in everything she did".
"Saskia's warm disposition and extraordinary intellectual creativity was combined with a strong belief that people who have committed criminal offences should have opportunities for rehabilitation," she added.
Olivia Smith, a lecturer in criminology who marked Ms Jones' dissertation when she was at Anglia Ruskin University, described her as "one of a kind" who "would have been a force for good".
Dr Smith said: "I'm so sorry that the world won't get to see what she could have achieved.
"Saskia's dissertation was so good that I cried with pride when I marked it."
Jack Merritt
Jack Merritt's family said he was a "friend and colleague" of Ms Jones.
"Our beautiful, talented boy, died doing what he loved, surrounded by people he loved and who loved him," a statement said.
"He lit up our lives and the lives of his many friends and colleagues, and we will miss him terribly.
"Jack lived his principles; he believed in redemption and rehabilitation, not revenge, and he always took the side of the underdog.
"Jack was an intelligent, thoughtful and empathetic person who was looking forward to building a future with his girlfriend, Leanne, and making a career helping people in the criminal justice system.
"We know Jack would not want this terrible, isolated incident to be used as a pretext by the government for introducing even more draconian sentences on prisoners, or for detaining people in prison for longer than necessary.
"Our thoughts go out to the relatives and friends of his friend and colleague who died with him in this incident, to the colleagues who were injured, and to his brilliant, supportive colleagues at the University of Cambridge Department of Criminology."
Mr Merritt had completed the same masters degree Ms Jones had, but a year earlier.
Prof Gelsthorpe said: "Jack's passion for social and criminal justice was infectious. He was deeply creative and courageously engaged with the world, advocating for a politics of love. He worked tirelessly in dark places to pull towards the light."
Legal commentator Joshua Rozenberg interviewed Mr Merritt for the BBC in February, when he was working with Learning Together at HMP Warren Hill in Suffolk.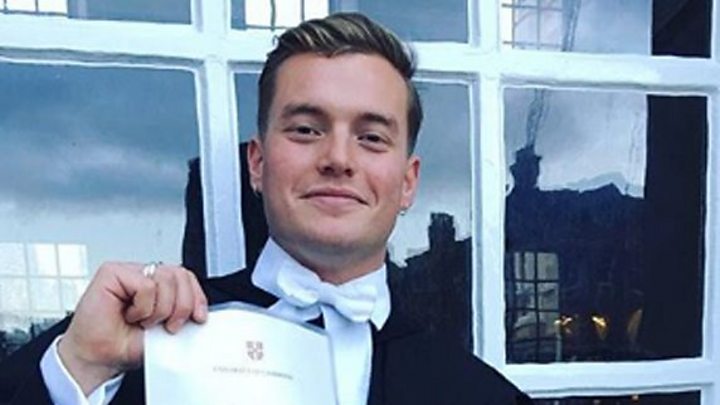 Mr Rozenberg described him as "a fine young man, dedicated to improving people's lives".
Rapper Dave said Mr Merritt was "the best guy" and the news of his death was "one of the most painful things".
Dave's Mercury Prize-winning album was inspired by rehabilitation therapy his brother Christopher Omoregie has received while serving a life sentence for murder.
The Streatham-born rapper said Mr Merritt had "dedicated his life to helping others" and it was "genuinely an honour to have met someone like you".